8 cups apples, peeled and cored (about 8 apples)
4 cups cranberries
3 cinnamon sticks (about 3 inches each)
2 whole cloves
2 cups sugar
1/3 cup cranberry juice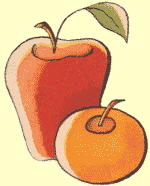 Slice apples.
In a 3 quart saucepan, bring 1/3 cup cranberry juice to a boil; add apples, cranberries, cinnamon sticks and cloves. Stir and reduce heat to medium-low or until just a simmer.
Continue to cook, uncovered for about 15 minutes or until the apples are just becoming tender.
Add sugar, stirring until sugar dissolves. Cook for another 4 or 5 minutes. Remove cinnamon sticks and refrigerate.
When cold, taste and adjust sweetness as desired.