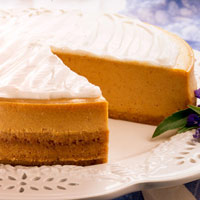 Soar to new heights with this heavenly recipe for Pumpkin Cheesecake. This rich and creamy dessert features a unique pumpkin and cream cheese combination that takes this divine treat to a whole new level. With its smooth texture and irresistible graham cracker crust, this dessert is sure to become a holiday favorite.
CRUST:
1 1/2 cups graham cracker crumbs
1/3 cup butter, melted
1/4 cup granulated sugar
PREHEAT oven to 350°F.
COMBINE graham cracker crumbs, butter and granulated sugar in medium bowl. Press onto bottom and 1 inch up side of 9-inch springform pan. Bake for 6 to 8 minutes (do not allow to brown). Cool on wire rack for 10 minutes.
CHEESECAKE:
3 packages (8 oz. each) cream cheese, softened
1 cup granulated sugar
1/4 cup packed light brown sugar
2 large eggs
1 can (15 oz.) LIBBY'S® 100% Pure Pumpkin
2/3 cup (5 fl.-oz can) NESTLÉ® CARNATION® Evaporated Milk
2 tablespoons cornstarch
1 1/4 teaspoons ground cinnamon
1/2 teaspoon ground nutmeg
BEAT cream cheese, granulated sugar and brown sugar in large mixer bowl until fluffy. Beat in eggs, pumpkin and evaporated milk. Add cornstarch, cinnamon and nutmeg; beat well. Pour into crust.
BAKE for 55 to 60 minutes or until edge is set but center still moves slightly.
TOPPING:
1 container (16 oz.) sour cream, at room temperature
1/3 cup granulated sugar
1 teaspoon vanilla extract
COMBINE sour cream, granulated sugar and vanilla extract in small bowl; mix well. Spread over surface of warm cheesecake. Bake for 5 minutes. Cool on wire rack. Refrigerate for several hours or overnight. Remove side of springform pan.
Estimated Times: Preparation - 25 minutes; Cooking - 55 minutes; Cooling Time - 3 hours refrigerating.
Yields 16.
© 2009 and ®/™ Société des Produits Nestlé S.A., Vevey, Switzerland, used with permission.
Submitted by: