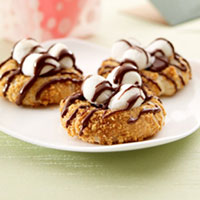 A great kid-friendly thumbprint cookie coated with graham cracker crumbs and filled with chocolate and marshmallows.
Cookie:
3/4 cup LAND O LAKES® Butter, softened
3/4 cup powdered sugar
1 LAND O LAKES® All-Natural Egg, separated
1 teaspoon vanilla
1 1/2 cups all-purpose flour
1/4 teaspoon salt
3/4 cup graham cracker crumbs
Filling:
1 cup milk chocolate chips
2 cups miniature marshmallows
Heat oven to 350°F. Line cookie sheets with parchment paper; set aside.
Combine butter and powdered sugar in large bowl; beat at medium speed until creamy. Add egg yolk and vanilla; continue beating until well mixed. Reduce speed to low; add flour and salt. Beat until well mixed.
Place egg white into small bowl; lightly beat with wire whisk. Place graham cracker crumbs into another small bowl. Shape dough into 1-inch balls. (Dough may be soft.) Dip balls into egg white; roll in graham cracker crumbs. Reshape balls, if necessary. Place 1 inch apart onto prepared cookie sheets. Make indentation in center of each cookie with thumb or back of teaspoon. Bake for 9 to 10 minutes or until edges just begin to brown.
Immediately place 4 to 5 chocolate chips and 3 mini marshmallows in each indentation. Return to oven; continue baking for 3 to 4 minutes or until chocolate is melted and marshmallows are puffed. Remove to wire cooling racks. Melt remaining chocolate chips and drizzle over cookies, if desired.
Yield: 3 1/2 dozen cookies.
Preparation time: 1 hour; Total time: 1 hour 15 minutes.
Nutrition (1 cookie): 90 Calories, 4.5g Fat, 15mg Cholesterol, 55mg Sodium, 11g Carbohydrate, 0g Dietary Fiber, 1g Protein.
© 2011 and ®/™ Land O'Lakes, Inc., used with permission.
Submitted by: