2 lbs fillets of striped bass, haddock or cod
2 bay leaves
1 large Spanish onion
2 carrots, cubed
2 stalks celery, chopped (with leaves)
1/2 teaspoon whole mixed peppercorns
1/4 teaspoon Tabasco
sea salt and cracked black pepper, to taste
1/4 lb. pancetta, cut into 1/8" cubes
6 green onions, finely chopped
1/4 cup fresh parsley
2 cloves garlic, minced
fresh lemon wedges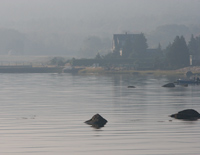 This soup is a cousin to fish chowder, an old traditional dish from the Atlantic Coast. Any type of white fish with few bones may be used.
Heat pancetta in 2 tablespoons of water in a Dutch oven; as the water evaporates, add 1 tablespoon olive oil. As the pancetta browns, add green onions, Spanish onion and chopped celery; saute until soft.
Add the fish. Add barely enough water to cover the fish. Cover the pot and simmer until the fish is opaque and white and begins to flake. Remove it to a dish using a slotted spoon and set aside.
Add 2 cloves minced garlic, and the bay leaves, carrots and peppercorns and half of the parsley. Simmer, uncovered, for 15 minutes. Add the potatoes and cook until tender.
Meanwhile, check the poached fish for bones. When the potatoes are tender, return the fish to the broth and simmer for another 10 minutes.
Add Tabasco, to taste. Adjust seasoning, adding salt and pepper, if needed. Remove and discard bay leaves.
Ladle a large portion of fish into serving bowls, and top with potatoes, then a few spoons of the broth on top. The broth may be strained and boiled for several minutes to reduce the quantity and strengthen the flavor.
Add a touch of minced parsley at the top and a sprig of parsley to the side for each serving. Serve with Pilot or chowder crackers and fresh lemon wedges.
Variations: Finely diced lean salt pork may be used instead of the pancetta. Add sweet corn with the potatoes for another, heartier variation. Some like to add chopped vine-ripened tomatoes to the broth; if tomatoes are used, don't forget fresh basil.
Cooks Note: This is not a chowder and should be served with both a fork and a spoon; the broth shouldn't be thickened with flour, but served as-is.