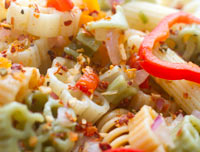 For Salad:
1 lb. fusilli, penne or other small pasta, cooked
1 can (15 oz) cannellini beans, drained (optional)
2 red onions, chopped
1 red bell pepper, finely minced
Combine ingredients in a large salad bowl.
For Dressing:
3/4 cup extra virgin olive oil
3 tbsp. red wine vinegar
1 tbsp. balsamic vinegar
1/4 cup fresh parsley, coarsely chopped
3 tbsp. grated Parmesan cheese
1/2 tsp. basil
1/2 tsp. fresh rosemary, minced
1/4 tsp. thyme
a pinch of red pepper flakes
3 or 4 large cloves garlic, minced
sea salt
fresh, coarsely ground black pepper
In a blender, toss ingredients for salad dressing. Taste and adjust seasoning; some like their salad dressing more acidic (add more vinegar or a little lemon juice), while others prefer less of a bite (more olive oil/less vinegar). Adjust seasonings to your taste.
You can add some cubed prosciutto, anchovies, black beans or kidney beans, strips of hard cheese or salami, freshly squeezed lemon juice, mushrooms or vinegar peppers, marinated artichoke hearts, chopped tomatoes or other favorite ingredients for variety. Colorful vegetables lend a festive appearance to the salad.
Marinate in refrigerator for several hours before serving.
Note: We like to use multi-colored pasta for this salad and both red and green peppers.
Submitted by: