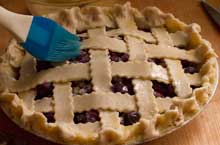 Filling:
1 quart fresh blueberries
1/2 to 3/4 cup sugar (to your taste)
2 tbsp. flour
Crust:
1 1/2 cups flour
1 tsp. salt
6 tbsp. butter
1/4 cup ice water
2 drops fresh lemon juice
Wash blueberries in advance and allow to dry in a colander. Remove any stems or soft berries.
Tip: Taste berries and adjust sugar amount according to the sweetness of the berries - use more for wild or tart berries or less for large, ripe and sweeter berries.
Cut butter into small chunks and freeze for 10-20 minutes in advance.
Preheat oven to 425°F.
Add drops of lemon juice to water. Mix flour with salt.
Cut butter into flour mixture with a pastry blender, large fork or two knives. Work butter into flour until walnut size chunks remain. Sprinkle the ice cold water lightly and evenly over the flour.
Divide the remaining dampened flour into two halves, then press the particles of each half together. Roll each half into a circle 9-10 inches in diameter. Line the pie pan loosely with one of the circles (do not press in). Combine sugar with the 2 tablespoons of flour and sprinkle evenly over bottom pie crust in pan.
Add about half of the blueberries, then alternate layers of the sugar-flour mixture and fruit.
Brush the edge of the lower crust with water and place the upper crust over the filling. Press the edge of the upper crust firmly onto the lower crust and trim off the extra pastry using a sharp paring knife. Use the knife to cut a vent hole in the center and slits in the top crust to allow steam to escape.
Lattice Top Crust: Thinly roll out top crust and cut into 3/4-inch to 1-inch strips using a pizza cutter wheel or a zig-zag patterned pastry cutter. Place over pie in a criss-cross or weaving pattern leaving spaces between strips as shown in picture.
Brush the top of the pie with cream or milk and sprinkle with coarse sugar, if a rich golden color is desired.
Bake in preheated oven for about 20 minutes, then reduce heat to 350°F and continue to bake until fruit is tender (about 20 more minutes). If the edges of the pie are browning too quickly, shield them with aluminum foil or a pie shield.
Serve warm or cold with frozen vanilla yogurt, Cool Whip or ice cream.