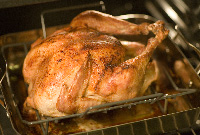 Roast turkey is a marvelous meal anytime of the year, and is a special favorite during the Holidays. If you're looking for a straight-forward method of preparation but also something out of the ordinary, this recipe, with its old-fashioned appeal and many options, may be just what you're after.
Roast Turkey:
1 16 to 18 pound turkey
1 tablespoon dried rosemary, crumbled
2 teaspoons ground sage
2 teaspoons dried thyme, crumbled
1 1/2 teaspoons salt
1 1/2 teaspoons pepper
kosher salt
salt pork (optional)
bacon (optional)
1 stick butter, melted
garlic powder
paprika
1 can broth, for basting
Choose a plump turkey. Clean and dry thoroughly inside and out. Remove giblets and turkey neck from inside of turkey and rub liberally with kosher salt.
Brine
turkey, if desired. Combine rosemary, sage, thyme, salt and pepper in small bowl. Rub some in each cavity.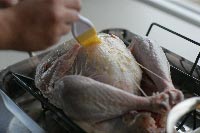 Pack body cavity loosely with the stuffing (see below) you will be using, or prepare stuffing separately (do not stuff turkey until the last minute before cooking). If turkey is being stuffed, truss or sew closed, or fasten with small lacing skewers and cotton string. Tuck in wings and fold tail in over the stuffing.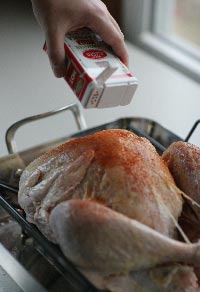 The skin over the breast of the turkey can be loosened and thin strips of lean salt pork may be placed just under the skin to keep the breast meat moist. The wings and thighs can also be wrapped with bacon strips, if desired. Brush the top of the turkey generously with melted butter, and sprinkle with garlic powder, salt and pepper, and paprika.
Roast turkey, uncovered, at 375°F, basting frequently with melted butter and turkey or chicken broth, or pan juices. After 1 hour, baste and sprinkle with seasonings again, then make a tent with aluminum foil and cover breast loosely. Reduce heat to 325°F and continue roasting for another hour, basting occasionally.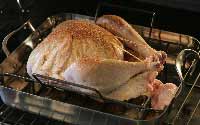 Uncover breast and continue roasting until an instant-read thermometer inserted in the thickest portion of the thigh registers 165°F (be careful not to allow the thermometer to hit a bone or the reading will be false). This will take about 90 to 110 minutes longer, depending upon the size of the turkey and the oven being used. (Convection oven cooking time should be reduced by 25% - see your oven manual).
While the turkey is roasting, prepare giblet gravy (see below).
When turkey is golden brown and done, allow it to sit for 20 minutes to rest before carving. Transfer turkey to a serving platter. Reserve the pan drippings for gravy. Don't wait for the little plastic "pop-up" devices to pop, or it's likely that the bird will be overdone and dry.
If you don't own an instant read thermometer, test to see if turkey is cooked by inserting the tines of a large fork into the upper thigh. If juice is not pink, then turkey is done.
Carve turkey by removing drumstick, wings and thigh by running a sharp carving knife through joints. Remove breast and slice diagonally across the grain. Serve with stuffing, gravy, and your favorite sides.
Giblet Gravy:
giblets
2-3 celery stalks
2-3 bay leaves
1 onion
3-4 garlic cloves
salt
pepper
Wondra or all purpose flour
turkey/chicken bouillon or soup base
1 cup mushrooms, sliced
5-7 sage leaves, minced
pan drippings
Simmer giblets (save liver for something other than gravy) with a few stalks of celery and several bay leaves, an onion and 3-4 cloves garlic in a medium saucepan. Season with salt and pepper, to taste and simmer, reducing volume until broth is flavorful. Thicken with Wondra or all purpose flour to desired thickness. Add Turkey or chicken bouillon or soup base, if desired, and 1 cup thinly sliced mushrooms. Stir in 5-7 leaves fresh sage, minced or 1/2 teaspoon rubbed sage. When turkey is done, add some of the pan drippings to this gravy, pouring off excess fat first.
If stuffing is to be baked outside of the turkey, place this in the oven during the last 45 minutes of roasting, alongside the turkey.
Stuffing:
1 lb. chicken gizzards, finely chopped
1 lb. pork sausage, crumbled
1 tablespoon olive oil
1 tablespoon butter
2-3 garlic cloves, minced
1 shallot
2 stalks celery, minced
1 cup mushrooms, sliced
1/2 teaspoon sage, chopped
1/2 teaspoon paprika
pinch of celery seed
2 1/2 cups Swanson Chicken Broth
1 stick butter
Pepperidge Farm Herb Cubed Stuffing cubes
1-2 eggs
3-4 tablespoons parsley, chopped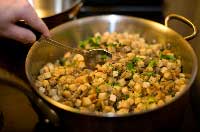 For a flavorful stuffing, sauté finely chopped chicken gizzards and crumbled pork sausage in 1 tablespoon each olive oil and butter with 2-3 cloves minced garlic, 1 shallot, 2 stalks minced celery, 1 cup sliced fresh mushrooms, 1/2 teaspoon chopped fresh sage, 1/2 teaspoon paprika, and a pinch of celery seed. Add 2 1/2 cups Swanson Chicken broth and 1 stick butter. When butter melts, stir in 1 14 oz. package of Pepperidge Farm Herb Cubed Stuffing cubes. Mix well; remove from heat and quickly stir in 1-2 eggs, and 3-4 tablespoons chopped fresh parsley.
Pack stuffing into a buttered baking dish, cover with aluminum foil, removing foil to allow stuffing to brown during the last 20 minutes (the stuffing can be browned after the turkey is removed by increasing oven temperature to 425°F.)
Roasting Chart:
Fresh or thawed turkey, conventional oven, lowest oven rack.