3-4 lbs russet potatoes
1 whole bulb garlic, unpeeled
1 tablespoon olive oil
3/4 cup half and half (1/2 milk/cream)
1 stick (1/2 cup) butter
3/4 teaspoon salt (or to taste)
1/4 teaspoon paprika
2 tablespoons fresh parsley, minced
1/8 teaspoon freshly ground black pepper
Wash and peel potatoes; cut into 1 inch chunks. Boil in salted water until fork tender, about 25 minutes. Drain.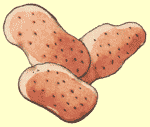 Slice 1/2 inch off the top of an entire head of garlic and place in a heat-proof coffee or custard cup to bake. Drizzle with olive oil. Cover cup with aluminum foil and bake in a preheated 350°F oven for 20 minutes or until tender. Cool. Squeeze out pulp of garlic and mash using a fork.
Mash potatoes or press through a potato ricer or food mill with garlic, parsley, salt and pepper. (Do not use a food processor or potatoes will be pasty).
Heat butter with half and half (any combination of milk and/or light cream may be used, as desired). Add to potatoes when butter has melted and milk/cream is hot.
Taste and adjust seasonings, adding additional salt and pepper, if needed. Scoop into a serving dish and sprinkle with decoratively with paprika. Add a few sprinkles and/or a sprig of fresh parsley to introduce some festive color.
Variation: 1-2 lbs cooked parsnips may be mashed in with the potatoes.