2 lbs stew beef, in 1 1/2" cubes
3 quarts water or beef stock
1/2 quick cooking (or pre-cooked dry) split peas
1/2 cup barley
1 bay leaf (optional)
1 onion, thinly sliced
1 leek, thinly sliced
2 carrots, thinly sliced
1 turnip, thinly sliced
1 parsnip, thinly sliced (optional)
1 celery stalk, thinly sliced
1/2 head cabbage (Savoy, if available)
3 lbs potatoes
sea salt and pepper, to taste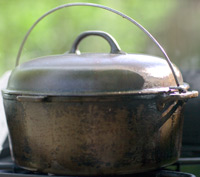 Wash, peel and chop all vegetables except potatoes and cabbage (save these for later).
Wash barley. Put everything into the pot and cover with water or beef stock.
Tip: If you have a food processor with a slicing disc, it can be used to advantage for slicing the vegetables.
Bring to a boil for 1 minute; reduce heat to low and simmer over low heat for 3 hours.
While the soup is simmering, wash the cabbage (we prefer using Savoy cabbage - the crinkly kind, but any kind may be used), remove the core and finely shred using the slicing blade of a food processor, with a large sharp knife, a mandolin, or the slicing side of a box grater. When the soup has been simmering for 2 1/2 hours or about 30 minutes before serving, stir in the shredded cabbage. Now is the time to peel the potatoes, quarter and boil or steam them until tender. When the potatoes are fork tender, drain them well; return them to the hot pan and shake over heat to dry out.
Put the potatoes in soup bowls with vegetables and broth to serve. Sprinkle with a pinch of fresh parsley finely chopped and serve with crusty artisan rolls or scones.
The recipe here is the traditional one, but (not being able to help ourselves) we sometimes kick it up with a few non-traditional ingredients such as chopped garlic and we brown the beef with the onions in olive oil before adding the stock for extra flavor. A teaspoon of beef soup base can be stirred in, if desired, or add extra beef stock at the end (to keep it fresh).
Note: If you have an older Crock-Pot or a variable temperature slow cooker pot which allows you to keep the soup barely simmering, you can use it for this recipe. We have found that some of the newer slow cookers keep the soup too hot on the "low" setting (rolling boil) and not hot enough on the "warm" setting. An induction burner works well for simmering or "back burner" style slow cooked soups and stews and doesn't use a great deal of energy; it also keeps the kitchen cool in Summer.
Variations: Try the basic recipe with pork cubes instead of beef and Chinese cabbage (Nappa). Substitute cooked mung beans or fresh green beans for the split peas. Broccolini is another tasty cole-family addition to soups which may be substituted for cabbage. Use soy sauce instead of salt as seasoning.