1 1/4 cups flour
1/2 teaspoon baking soda
1/4 teaspoon salt
3/4 cup plain, vanilla, banana or maple yogurt
1/4 cup milk, cream, or half and half
1 egg, beaten
2 tbsp. melted butter
few drops vanilla (optional)
1 tbsp. honey, sugar or maple syrup
Makes about 6 medium pancakes.
Whisk together dry ingredients (flour, baking soda and salt). In a separate bowl or measuring cup, beat egg until light.
Stir milk or cream slowly into the dry ingredients. Stir in egg, yogurt, vanilla and honey, sugar or syrup.
Beat only until smooth (about 30 seconds). Mix in melted butter; beat 30 seconds more.
Test the batter by pouring a small amount onto a hot griddle. The batter should be as thin as necessary for a pancake to hold its shape after baking, but if too thin, the pancake will fall apart. If too thick, add a little milk or warm water; if too thin, add a small amount of flour. Too much flour will make the pancakes heavy.
Spray a non-stick pan lightly with Pam or rub with a piece of salt pork (butter has a tendency to burn). Pour griddle batter from the pitcher or ladle held closely to the pan to avoid scattering of the batter.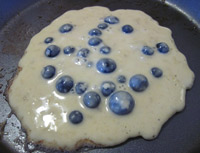 Watch for tiny bubbles to form along the outer edge of the griddle cake as it cooks over high heat. The top should be puffed up and full of bubbles, the edges cooked.
Lift up the edge slightly using a spatula to be sure that the edges are browned, and if so, turn the pancake over to brown the other side for about another minute. Plain griddle cakes without fruit added should bake in about 2 minutes.
Keep warm until serving with melted butter, honey, maple syrup, brown sugar (or brown sugar syrup), jam, jelly or preserves, topped with fresh fruit and dusted with powdered sugar or a pinch of cinnamon sugar. One method of serving is to stack four griddle cakes with butter and syrup between each layer, then top with fruit and a sprinkling of powdered sugar; cut like a layer cake.
Cooks Note: 1 cup buttermilk may be substituted for the yogurt and the milk, if desired.
Many Variations are possible: add flavorings other than vanilla, use different yogurts, add chopped nuts, blueberries, etc. Add a small amount more honey if you prefer sweeter pancakes, a tablespoon more of butter will make the pancakes richer and more tender.