2 cans cannellini Beans (15 oz. each) or other white beans, rinsed and drained
1 cup onion, chopped
2 cloves garlic, minced
1 tbsp. Meijer canola oil
1/2 tsp. Salt
1 can reduced-sodium chicken broth (10 oz.)
1 can Meijer diced green chilies (4 oz.), drained
2 tsp. Meijer chili powder
1 tbsp. McCormick ground cumin
2 cups low-fat milk
1/2 cup grated carrot
1 1/2 cups frozen corn kernels
4 tbsp. fresh cilantro, chopped (optional garnish)
1/4 cup diced celery
1 tbsp. cornstarch
1 cup shredded reduced-fat cheddar cheese, divided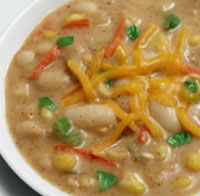 In a large saucepan or stockpot, stir together oil, onion and garlic over medium heat until brown and tender (about 5 minutes). Add 1 can of beans and mash into onion mixture with a potato masher or slotted spoon (mixture should be chunky-smooth).
Stir in second can of beans, green chilies, corn, carrot, celery, chicken broth, cumin, chili powder, and salt. Bring mixture to a simmer. Blend cornstarch into cold milk and stir into chowder, bring slowly to a mild boil, stirring frequently. Reduce heat and simmer 5 minutes or until corn and celery are just tender and mixture thickens. Stir in 1 cup of the cheese just until melted.
Remove half the chowder and place in a shallow freezer safe container. Cover, label with contents and date, and store in the freezer for up to 6 months. Thaw in the refrigerator overnight or microwave thaw just before reheating.
Evenly divide the remaining chowder into each of four soup bowls. If desired, garnish with additional shredded cheese and diced cilantro.
© 2008 and ®/™ Meijer Healthy Living, used with permission.