Shell: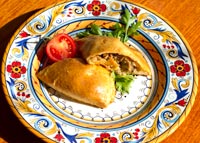 2 cups flour
2 tablespoons sugar
2 teaspoons baking powder
1/2 tbsp. salt
1/3 cup shortening
1/3 cup ice water
Preheat oven to 375°F.
Sift together flour, sugar, baking powder and salt.
Cut the shortening into the flour as though you were making a pie crust by working it in with your fingertips until the mixture resembles coarse crumbs.
Sprinkle dough with just enough ice water so that it will just hold together. Knead together briefly and allow to rest, covered about 10 minutes.
Roll dough out on a lightly floured board to circles about 3-4 inches in diameter.
Place a spoonful of empanada filling of your choice on one side of the circle. Moisten the edges of the circle with a small amount of water and fold the dough over the filling to make a half circle. Press the edges together to seal.
Bake at 375°F for 15-20 minutes.
Filling:
1 medium sized onion, chopped
3 cloves garlic, minced
4 tablespoons vegetable oil
2 tomatoes, peeled
2 cups cooked beef, chopped (1 lb. raw)
1/2 cup beef stock
1/4 cup raisins
1 tsp. vinegar
1/8 tsp. ground cloves
1/8 tsp. ground cumin
salt and pepper, to taste
Sauté onions and garlic in hot oil until translucent.
Add meat, sauté 5 more minutes. Stir in tomatoes, stock and remaining ingredients.
Simmer for 30 minutes.
Makes 1 dozen.
Servings: 12
Nutrition (per serving): 305 calories, 14.7g total fat, 4.2g saturated fat, 2.2g polyunsaturated fat, 282.3mg potassium, 24.3g carbohydrates, 6.2g sugar, 1.3g fiber, 18.4g protein, 48.7mg cholesterol, 416.6mg sodium, 64.5mg calcium, 188.9IU Vitamin A, 4.5mg Vitamin C, 2.6mg iron.
Submitted by: