3 lbs. ground beef or chuck
1 lb. ground pork
1 lb. ground veal
1 lb. seasoned bread crumbs -or-
1 loaf bread soaked in 1 1/2 cups milk
1 1/2 cups grated Parmesan or Romano cheese
2 tablespoons olive oil
1 cup fresh parsley, minced
5 or 6 eggs
1/2 teaspoon each onion powder, garlic powder
1 teaspoon each salt, pepper
2 tablespoons finely minced garlic (fresh)
4 whole cloves garlic
olive oil, to fill a skillet 1/2" deep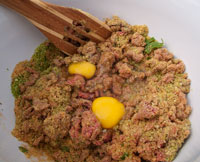 Combine ground meat, bread or bread crumbs, grated cheese, minced parsley and lightly beaten eggs (add eggs one at a time while stirring ingredients together). Sprinkle with minced garlic, olive oil and seasonings, then mix well until everything is combined. A chopped onion or chopped and seeded sweet bell pepper may be optionally added in for a variation.
Form meat mixture into meatballs, using an ice cream scoop or your hands, pressing lightly, just enough so that meat holds together, but not so much that the meat is very compressed or the meatballs will be tough and dry.
In a heavy skillet, heat olive oil over medium low heat. Add whole garlic cloves. Turn the garlic cloves to color them on all sides, then when lightly roasted, press them into the oil; as they brown, remove them (more can be added). This is done while the meatballs are being browned.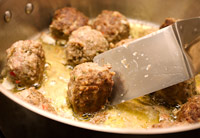 As soon as the oil is hot, add the meatballs to the skillet, leaving about 1 1/2" between them so that they can be easily turned. Turn them often using a spatula or large spoon so that they don't stick. Make sure there is enough oil in the pan (about 1/2"). You don't need extra virgin olive oil for this, any good quality Italian olive oil will do. When the meatballs are browned well on all sides, remove from the pan and drain on paper towels. Then add the next batch to the pan and continue until all are cooked.
If you're impatient, the meatballs may be transferred to a cookie sheet in a 375°F degree oven after they've browned but before they are fully cooked inside, to finish off cooking in the oven. While the half finished meatballs are baking, you can continue using the skillet to start browning the next batch.
You can store the meatballs in a plastic bag in the refrigerator until ready to use. Before serving, simmer them in pasta sauce until heated through. After they've been in the pasta sauce, any leftover meatballs may be stored right in the sauce.
Serve the meatballs with pasta and sauce or top with sauce and Parmesan cheese in sub rolls for meatball subs. Meatballs can be broken up and combined with elbows and topped with sauce for American Chop Suey, or break them into pasta sauce to make a wonderful meat sauce. Meatballs are great served with macaroni and cheese.
This mixture can also be used as a lasagna or ravioli filling, or stuffed into a calzone and baked. It makes a great filling for stuffed peppers, and will make wonderful stuffed artichokes.