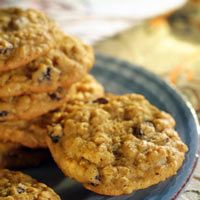 These delicious cookies are great for back to school, bake sales, or dessert for your family and friends.
2 cups all-purpose flour
1 1/3 cups quick or old-fashioned oats
1 teaspoon baking soda
1 teaspoon ground cinnamon
1/2 teaspoon salt
1 cup (2 sticks) butter, softened
1 cup packed brown sugar
1 cup granulated sugar
1 cup LIBBY'S® 100% Pure Pumpkin
1 large egg
1 teaspoon vanilla extract
3/4 cup chopped walnuts
3/4 cup raisins
PREHEAT oven to 350°F. Lightly grease baking sheets.
COMBINE flour, oats, baking soda, cinnamon and salt in medium bowl. Beat butter, brown sugar and granulated sugar in large mixer bowl until light and fluffy. Add pumpkin, egg and vanilla extract; mix well. Add flour mixture; mix well. Stir in nuts and raisins. Drop by rounded tablespoons onto prepared baking sheets.
BAKE for 14 to 16 minutes or until cookies are lightly browned and set in centers. Cool on baking sheets for 2 minutes; remove to wire racks to cool completely.
Estimated Times: Preparation - 30 minutes; Cooking - 14 minutes; Cooling Time - 15 minutes cooling.
Yields 48 cookies.
© 2009 and ®/™ Société des Produits Nestlé S.A., Vevey, Switzerland, used with permission.