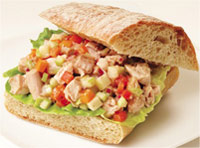 1/2 teaspoon Morton® Fine Sea Salt
3 tablespoons canned, jellied cranberry sauce
1 1/2 tablespoons Dijon mustard
2 tablespoons apple cider vinegar
1/3 cup canola oil
2 cups cubed or shredded roasted turkey
1/4 cup diced celery
Method Combine salt, cranberry sauce, mustard and vinegar together in a bowl and mix well. Slowly drizzle oil while whisking to a thicker consistency. Add turkey and celery and toss to coat with vinaigrette.
Chef's Suggestion: Add 1/4 cup of each of the below diced vegetables for added flavor:
• red onions
• red bell pepper
• orange bell pepper
Sandwich Suggestion: Serve on sandwich bread, wrap or pita.
Yields 4-6 sandwiches.
© 2010 and ®/™ Morton Salt, Inc., used with permission.
Submitted by: